Posts for: March, 2018
By Catherine Pike, DDS, PC
March 30, 2018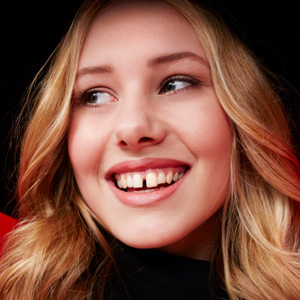 Many otherwise attractive smiles have one noticeable blemish — a large gap between the two upper front teeth. If you have such a gap, there's a solution that could transform your smile.
The most likely reason for the gap is an issue with a bit of muscle tissue between the gums and upper lip known as the frenum, part of the face's muscular system. The frenum, though, can overdevelop and grow between the two front teeth into the front part of the palate (roof of the mouth). This can keep or push the teeth apart to form a gap.
To correct the issue, it's first necessary to consult with an orthodontist, a specialist in bites and tooth alignment. It's possible for there to be other factors contributing to the spacing including tongue thrusting or finger sucking habits, or missing or misaligned teeth. If the examination reveals an overly large frenum, then the treatment usually commences in two stages.
First, we would need to close the gap by the moving the teeth toward each other with some form of orthodontic appliance like braces or clear aligners. Once closed, the next stage would be to surgically remove the excess frenum tissue and cosmetically alter the gums if necessary.
The order of treatment is important — if you remove the frenum tissue first, any resulting scar tissue could prevent closing the gap with orthodontics. Further, cosmetic surgery on the gums beforehand could result in the loss of the papillae, the small triangular gum tissue between teeth, which results in an unattractive "black" hole.
A frenectomy, the procedure to remove the excess frenum, is a relatively minor procedure that can be performed by a periodontist (gum specialist), oral surgeon, or a general dentist with surgical training. The area is numbed with a local anesthetic, the tissue dissected with a small scalpel, and the resulting small wound closed with a few stitches (another option is to use a surgical laser to remove the frenum). Healing should be complete in about a week with only minor discomfort.
Depending on your individual circumstance, full treatment can take time. But in the end these otherwise routine dental procedures can have a huge impact — a more attractive smile without the noticeable gap.
If you would like more information on treating abnormal teeth spacing, please contact us or schedule an appointment for a consultation. You can also learn more about this topic by reading the Dear Doctor magazine article "Space between Front Teeth."
By Catherine Pike, DDS, PC
March 15, 2018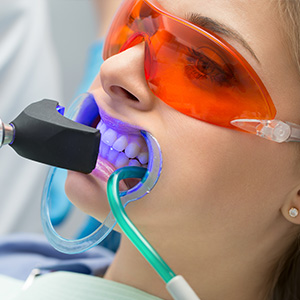 If you're ready to put the "pizzazz" back into your smile, your dentist may be able to help. It's possible your dull, dingy smile could be transformed with teeth whitening.
Teeth whitening or bleaching is a technique that applies a solution with a bleaching agent (usually up to 35% hydrogen peroxide in an office setting) to the teeth to whiten them. Although there are Do-It-Yourself home whitening kits you can use, there are a few good reasons why you should first consider a whitening procedure in a dental office setting.
To begin with, you should first have your teeth examined by a dentist to determine why they're discolored. Certain foods and beverages we consume or tobacco habits are the usual culprits causing stains on the enamel, the outermost tooth layer. These are the kinds of stains targeted by most whitening solutions.
But the interior of a tooth can also become discolored for reasons like trauma, past dental work or tetracycline use at an early age. If your staining is internal (intrinsic) rather than external (extrinsic) reducing that discoloration will require an invasive procedure only a dentist can perform—a home kit won't be able to do the job.
Another reason for having your teeth whitened by your dentist (even extrinsic staining) involves your time and the degree of brightness you'd like. Because dentists use stronger bleaching solutions (home kits usually use a weaker solution of 10% carbamide peroxide) it takes fewer sessions than home kits to achieve results—and they may last longer. In addition, dentists have more control over the level of brightness to match your expectations of a more subdued, natural look or a dazzling "Hollywood" smile.
A dentist can also help you navigate special circumstances like matching and managing natural teeth whiteness with dental restorations (which don't bleach) or special whitening situations like a single discolored tooth.
Even if you eventually decide to go the home kit route, consulting with a dentist first can still prove helpful. You'll get expert advice on products, tips on how to apply them and how to prolong the whitening effect. Whichever way you go, home kit or dentist, you can gain a brighter, more confident smile with teeth whitening.
If you would like more information on teeth whitening, please contact us or schedule an appointment for a consultation. You can also learn more about this topic by reading the Dear Doctor magazine article "Important Teeth Whitening Questions…Answered!"